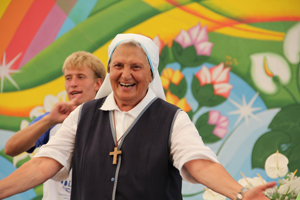 The term "friends" refers to something more than just a brother or sister. In fact, Jesus, when he wanted to tell his apostles that he truly loves them, that he trusts in them, that he feels that they are "his", says to them, "I called you friends because everything that I heard from my Father I have made it known to you".
To live what we call "true friendship" means to experience the life of Christ in us, he who is truly Good and who allows us to live well! Our young people in Community experience what it means to communicate with each other in a serene way, what we call a true, "clean" friendship. This authentic friendship is something possible, they are not just words but true facts! And the biggest fact is that each one of them, thanks to their encounter with Jesus and in prayer, has experienced this love, this Goodness and forgiveness. We have proposed prayer and true friendship as the principle values, precisely because we did not want to deceive them. We do not want to delude them by giving them a false answer—they do not receive even five cigarettes a day! We believe that they are worth more and that they are stronger than cigarettes, stronger than alcohol, stronger than what money can buy, stronger than everything! And this strength is the strength that is founded in love, the love which Jesus gives us when he called us his friends. His love becomes our strength, it becomes freedom, joy, interpersonal communication, smiles, forgiveness--it becomes "true friendship!"
I see this love in the eyes of the young people and in many people who rediscover the meaning of their lives when they encounter Jesus and they encounter Blessed Mary's smile: it is a strong, tenacious love that does not eliminate suffering, on the contrary, when there is pain, where one experiences failure, resentment…that love increases! It increases because it overcomes everything that is negative and that hurts us. It is not to be welled-up inside but it can be transformed into a gesture of forgiveness, of serenity and of peace. Who knows how many of you have made these gestures of kindness, thus even you know that love often times is characterized by suffering, pain, and in the blood we see on Jesus' face. Jesus himself showed this to us and has taught us to reconcile with one another, to forgive one another, to be men and women who want peace, that true peace that does not come from the outside but from the inside of us, a seed planted by the Love of God in Jesus Christ who dwells deep within us. Unfortunately sometimes, as a result of our pride, our domineering character, our desire to say that "I'm right," we hurt ourselves, we hold in our rage, our anger and our judgments. When this happens to me, I have learned to tell myself, "Elvira, get smart. Go and ask for forgiveness and be reconciled with that person!" I must tell myself this because I also have that negative side of me, that pride that is in all of us, but blessed are we who conquer it with love!--love, that is patience, kindness, mercy, silence, and a heart that listens. How many times we ought to listen to each other but instead we want to immediately justify ourselves. And yet what we really should do is wait, let the other "tell you off" and tell you everything while you remain silent! Do you know why sometimes we want to immediately respond when someone wants to reprimand us? It is because we are not at peace, because we still have a lot of fear. Know, however, that remaining in silence is the most effective "word". If you truly want to help yourself and if you truly want to help your brother or sister, allow him or her to speak and you remain in silence! It will be the silence that will fill you with peace. After three days of having prayed for that person, go and speak with him/her and you will see that you do not say what you would have said immediately "in the heat of the moment," words that you would not have said for love's sake, but rather out of anger, out of our wounded pride and to get back at him/her! You see, silence is a concrete example of what love is. They are all small, beautiful, simple but pure, transparent examples that give you serenity in the soul and in the heart, they give you the joy of living. They are wonderful gestures that welcome life in everything, even in times of pain. Life is beautiful especially if one embraces all of its pages, knowing that God will manifest Himself, because He has called us "friends", he laid down his life for us and continues to do so every day.