Let's celebrate because Jesus' Resurrection is the great feast of life.
Without His victory on death we would have never met, we would not be here. Easter Vigil is the greatest, most joyful, brightest night of our life and of all time, the highest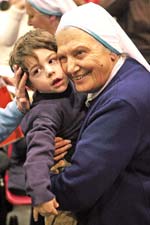 moment in history :Jesus leaves the grave, His life wins over death and sin! The youth in our Community really wish to sing, dance ,be happy and celebrate life even in the labour of their walk towards light: maybe they do not know why yet, but they have guessed something , they have seen something already!
The stone of death outside Jesus' grave rolls aside: that's the power of love! We too have experienced the grave of darkness, hell, fear! Today we cannot go back to that grave: we have to look ahead because Jesus has risen and we have met Him. We have met a Saviour, a Redeemer, a friend, a Lord stronger than death.
Thanks to Him our destiny is Resurrection too. This is our story. What is waiting for us today, tomorrow and for ever are Resurrection and eternal life. We must experience love to really believe in Resurrection : not only with our head, but with all of our life because the very love that you donate to your brothers and sisters will make you rise! Suffering is the root of the tree of love and Resurrection is its fruit! Let's go on celebrating , letting Jesus rise inside of us. We have to welcome "the surprise" that Jesus ,through His Resurrection, wants to do to each of us.
It's a special feast, it's the "heart" of the world's life and Jesus bears something beautiful and important in his mind for each of us. Let's open our heart and let's say freely :" Oh Lord ,You know better than me what I need now". Jesus knows that and wishes to give us this gift: the Father gave Him this power , because He died on the cross and rose to make us rise again!
Happy Easter to everybody!


Print this page