This Sunday's readings are about resurrection, about passing from death to life. Easter is a passage from slavery to freedom. The people of Israel celebrated it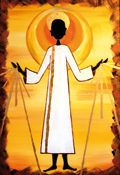 remembering their passage from Egypt to the Promised Land: the sea had parted and the people started their walk towards freedom. Jesus shows us that Easter means going from death to life, that eternal life exists, that God wins over death, that God's love and Mercy , shown us through Jesus' cross, are stronger than the sins
that killed Him. Today, two weeks before Easter, the Church anticipates this bright mystery of our Faith: Jesus rose to let us rise too. Jesus lives to give us life again, Jesus is stronger than sin so we too can leave the grave of our evil which is sometimes closed by a big stone. We must rise from many deaths and the Word of God of today reveals some.
The first tells us about the death of freedom, when Ezekiel says these words to the people, in the name of God: "I will open your graves, and have you rise from them, and bring you back to the land of Israel"; the people were slaves and Israel was occupied, the land was devastated ,the temple was destroyed and they had lost everything, they felt dead; they were dead inside, slaves of Babylon. When man loses the freedom of his own home, of his land and loses his faith he is alive outside but he is dead inside : in that moment God reveals Himself as the One capable to make hope rise again, it's the hope of the promised land that exists in the heart of people. We have experienced many times that God makes freedom rise. In many countries it was difficult to be free, let's think about the years of Communism when freedom was crushed by a system that gave you a land but no freedom, a house but you were not free in it.
John Paul II , thanks to his faith, destroyed the walls that historically divided lands, peoples, nations. His cry :" Open the doors to Christ" addressed to the hearts of men, women, families, political systems at the start of his pontificate was a blessing that, step by step, collapsed all those historical walls that prevented man from freedom. "I will open your graves, and have you rise from them" . Evil closes us in sadness, lies, fear: God's freedom and truth open us the way, like a sea that opens to let us walk.
The second reading tells us about another death from which we must rise. When St. Paul speaks to the Romans, the little Christian Community in Rome that was not in slavery , he announces that man has to be freed from inside. Political freedom, land, a house are not enough. St. Paul announces that there is a temptation ,inside of us, that makes us lose the joy and freedom of truth: being subdued to flesh. This is our slavery: the pleasure we get from things do not give us freedom, it takes it away from us. We are often deceived when we think that what we like will make us free, but later we realize that pleasure buys our freedom ,makes us its slaves and lowers us. St Paul then explains the importance of rising to become new men and women: "You are not in the flesh. The Spirit of the one who raised Jesus from the dead dwells in you". The true freedom is the Spirit that dwells in each of us. Living according to pleasures, to what apparently satisfies our lives but which actually destroys them from inside, empties life of its real strength, empties our will of its essence and value, empties freedom because, if you deceive your freedom , you will be misled and disappointed.
When the Spirit is inside of you , you are alive and your heart is free even if you are a sinner and you are frail because your conscience is free and is embraced by God's mercy in truth.
In the gospel Jesus stops at Martha, Mary and Lazarus's as He always did so the three of them could experience the presence of Someone who pushes you to wake up from death, because ours is the God of the living not of the dead. "I am the resurrection and the life" Jesus tells Martha: what great words! There is the truth of Jesus' life and the truth of what He came to bring us: resurrection and life. Jesus came to tell the dead:" Come out!", to the prisoners:" You are free", to the blind ones:" See", to the dumb ones :"Listen". But today Jesus is moved and weeps: it's God's love that cries for that man, for His dead friend. Jesus shows us God's humanity. God loves us so much as to weep for our death as we weep for the death of a friend, of a mother, a father, a sister, a child. Jesus cries for His dead friend Lazarus, for that family in pain, for any man that death rips from life that is God's great gift. But God's love goes farther, it does not stop at tears: this is our hope! Even if we cry for a friend, a sister, a child we know that there is something ahead ,because Jesus goes to the grave to roll the stone that had been placed there. In two weeks no person will roll the stone of Jesus' grave : only the strength of God our Father will tell Jesus:" Come out!"
Now it's Jesus, God's son that says to the man, that cries:" Lazarus, come out, !" God is shouting to men :"….don't stay there, inside of your sins, of your fears, of your plans that sometimes turn into tombs, of your thoughts, of your selfishness, of your pride…don't stay there, come out".
Man was created for being free, for great, bright space not for a dark room closed by a stone. "The dead man came out, tied hand and foot with burial bands, and his face was wrapped in a cloth. So Jesus said to them, "Untie him and let him go".
Any time someone arrived in the Community from jail Mother Elvira said to him :" Remember that you came out of jail but there is a much sadder one, there are harder bars than those you left there: it's the jail made of sin, sadness, lies."
Jesus donates us a house, a land, a place where we can find freedom again. People who were slaves of the pleasures of flesh are freed by Jesus: from addiction, sex, food, violence, transgression and He gives that freedom a new direction. The life of those youth inhabited by the Holy Spirit becomes a body of flesh able to perform gestures of purity and true love. Jesus rises the dead, how many "Lazarus" have risen in our Community, have come out of laziness, of a sad life, of nervous breakdowns, of filth, of a sin that brutalizes and makes you sad. Lazarus is tied up and bound by evil, because evil prevents you from the gestures of freedom, love , from going ahead, looking, speaking, listening, hugging, holding your hands out. So let's ask our Lord that in our walk towards Easter He makes us rise from the evil that nails us. When man says "I believe" he rises to a new life. Let's ask this for us and for the many who need to rise to true freedom .Thank you.